Page Five
"A Happy Christmas! A Bright New Year!" 1878 L. Prang & Co. Boston U.S.A. Size: 2.5 x 5.25
Christmas cards were fairly rare in the United States for some 30 plus years after the Cole/Horsley card. Americans who wanted to buy Christmas cards had to pay a high price from a limited selection of cards that were imported from Great Britain and Europe. Some used business cards that had been embellished with a holiday motif. The earliest attempt to produce an American made Christmas card was a printed advertisement in 1850 sent out by R. H. Pease's Great Varety [sic] Store in the Temple of Fancy located in Albany, New York. The card was a lithographed design of Santa Claus with a family enjoying their presents while a servant sets the table for the Christmas celebration. But a true Christmas card was not produced in America until a man named Prang set up shop.
It was in 1875 that Louis Prang introduced the first commercial printing of Christmas cards in the United States. As a young man, Prang, a German lithographer, came to New York and migrated to Boston in 1850. There he established a printing business of his own and by the mid 1860's was reproducing oil paintings using a technique he had invented which he called his "chromolithograph" technique. This process would use up to forty-five color plates to print one picture. It was a cheaper, less cumbersome system of printing color from zinc plates instead of the heavy lithographic stones. He became an immediate success because of his innovative color printing process, despite some that called his reproductions frauds.
In 1873, Prang attended an exhibition in Vienna where he promoted his "chromos" by handing out decorated business cards. He then followed up with the printing of holiday greetings on the cards the next year and sent them to England for sale. A journalist became aware of the great burden the British postal service was bearing with the massive amount of Christmas cards being mailed wrote that they were "a great social evil". But the sending of Christmas cards was becoming a deep-rooted holiday custom.
The following year, 1875, Prang introduced his "chromos" to the United States. Here he had the advantage of an improved postal system. He also felt that Americans, known for their free spirit and roughness, longed for some sensitivity and beauty in their lives. He sensed a need and would strive to fill it. So he printed highly colored and beautifully designed cards that immediately became popular with Americans. The Cherubs card shown above was printed in 1878.
Besides Christmas cards, Prang became known for printing seasonal cards that also celebrated Easter, Thanksgiving and Valentine's Day. His early cards followed the typical British themes, incorporating humor, flowers, children, animals, and elegant ladies. Many were adorned with ribbons, lace, and flowers. Often his Christmas cards are mistaken for Valentine's or Easter cards because they have scenes unrelated to Christmas. Just by switching a plate with a different message would turn a Christmas greeting into an Easter greeting.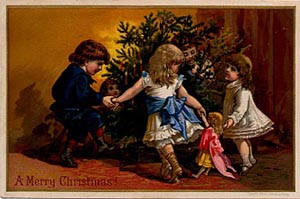 "A Merry Christmas"
1880 L. Prang & Co. Boston U.S.A.
Prang's cards were the most popular on the 19th century market. By 1881 his presses were printing almost five million Christmas cards a year, making their way into the homes of thousands of Americans. However, they were not the cheapest cards of their time, with prices ranging from .75 to $1.25, based on the value of the material used. Prang kept producing more and more beautiful cards over a 20-year period. To stimulate new ideas for cards, Prang sponsored a contest whereby artist would submit a design in hopes of winning a cash prize. A panel of judges selected the final designs and awarded the cash prizes up to $1,000! Read more about the contest here.

The popularity of greeting cards became so large that the market was being flooded with cards from many manufactures. Many German based imitators were producing inferior and cheaper cards, but greater novelty. Prang tried for several years to compete but soon became frustrated with these cards of inferior workmanship that were taking away his market share. So Prang, "The Father of the American Christmas Card", abandoned the business in the early 1890s, as did many of the original card publishers. It was not until the outbreak of World War I that German-made cards were removed from American shelves. Today, Prang's beautiful cards are sort after by many collectors and museums.

View our Gallery of Louis Prang Christmas Cards, 1876 - 1879 BY CLICKING HERE

View our Gallery of Louis Prang Christmas Cards, 1880 - 1886 BY CLICKING HERE

Page 5