The Contests of Louis Prang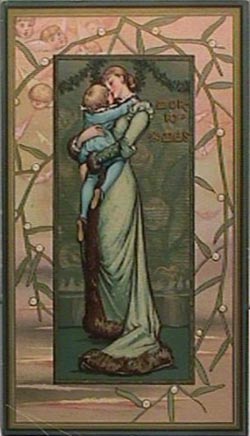 To stimulate new ideas for cards, Prang sponsored a contest in 1880 whereby artist would submit a design in hopes of winning a cash prize. A panel of judges selected the final designs and awarded the cash prizes of $200, $300, $500 and $1,000! This competition was held in June at the American Art Gallery in New York. First prize went to Rosina Emmet, second prize went to Alexander Sandier, third prize went to Alfred Fredericks, and fourth prize went to Alice S. Morse. These designs were issued as Christmas cards with the artist name, contest place, and award money amount on the back. The cards were either 6 x 8 or 7 x 10 inches and trimmed with fringe. Some cards had verses by such notable poets as Tennyson, Longfellow, Whittier, and Bryant. However, Celia Thaxter and Emily Shaw Forman authored most of the verses.
A second contest was held in 1881. Artist Elihu Vedder won first prize, Dora Wheeler won second, C.C. Coleman won third, and Rosina Emmet won fourth prize. A verse by Celia Thaxter was printed on the back of Vedder's card. Vedder's design was of a "young woman with ribbons flying from her head, relieved against a light blue sky, with a white scroll containing the figures 1882. The whole framed in a border of conventionalized leaves and flowers in light greens, blues and gold." Prang also purchased another design from Vedder for $150, and it also had a verse by Thaxter. The card showed a "half-nude goddess of fortune sitting at her wheel with arms extended, showing pearls". The card to the left was the 4th prize winner by artist Rosina Emmett, who won $200.00 for this design. The back of the card has a verse by Celia Thaxter. The card is about 5.5 x 9.25 inches.
The 1882 contest had two categories; Artist's Prizes and Popular Prizes. The award amount was raised to $4,000. Dora Wheeler won both the Artist's Prizes category and the Popular Prizes category. The design showed a "desolate mother and child huddled against a barren tree and a figure of the Virgin and Child shining through a cloud of glory with the inscription, 'Good Tidings of Great Joy.' " The remaining Artist's Prize category was won by: Miss L.B. Humphrey, second and third place; and Alfred Fredericks, fourth place. The rest of the Popular Prizes category was won by: Walter Satterlee, second place; Frederick Dielman, third place; and Miss Florence Taber, fourth place. The last competition was held in November of 1884 at Reichards Gallery in New York. First prize went to C.D. Weldon, whose design was a "little girl before the fire dreaming of the wonders of Christmas, which take shape in the smoke rings above her."