Page Six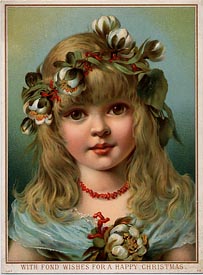 "WITH FOND WISHES FOR A HAPPY CHRISTMAS". A beautiful Victorian era Christmas card by Obpacher Brothers of Munich, Germany; pre 1890.
The Victorian Era (1837-1901) brought with it opulence and gracious living. This was reflected in home decor, apparel, and art including the Christmas cards of this era. Victorian cards came in many sizes, shapes and topics. Much like the Valentines of this period, Victorian Christmas cards were quite elaborate. Some were square, rectangular, oval, circular, or crescent. Others were shaped like bells, shoes, or fans. Designs included folding cards, fringed, embossed, or iridescent. The greeting on the card could be a poem, a verse, a carol, or a simple sentiment. Some had to be turned upside-down in order to reveal the message.
While Valentines were often sent by those in love, Christmas cards could be sent by anybody as holiday wishes and a reminder that spring was not far away. The early cards favored spring flowers such as violets, forget-me-nots, and pretty pansies. Many showed a sun-dappled summer scene with butterflies, blue birds, or other animals. The greeting on the card was usually a sentimental love message. An early fad was birds dressed and acting like people bringing the holiday message. In 1851 Cassell, Petter and Galpin (London) issued the first set of cards with angels and bell ringers.
The materials used to produce Christmas cards became just as varied as their shapes and verses. Besides the stock paper, Victorian Christmas cards used satin, silk, plush and brocade as much as it did ribbons, lace and embroidery. One card is known to consist of 750 pieces of material stitched together. Gold trim was first used in 1858. Frosted cards came about in the 1870's and the most popular silk fringe lined cards made their first appearance in the early 1880's. Firms such as Marcus Ward, Raphael Tuck, Thomas Stevens, Hildesheimer, and L. Prang of Roxbury (USA) incorporated silk fringe on many of their designs. These adornments enhanced the artistically crafted illustrations depicted on the card, many of which were the works of popular artists of the time.
Red-breasted robins were common on Christmas cards, first appearing in the 1850's. The robin was considered a symbol of peace. Christians believed that the robin got its red breast when picking the bloody thorns from Christ's crown as he hung on the cross. One Victorian card (c. 1885) shows a dead robin lying on its back, killed by celebrants of the inside-out Feast of Fools, with the message "May yours be a Joyful Christmas" printed across the bottom. Most other scenes, however, are a little more joyous.
In the 1860's and 1870's, Victorians favored Christmas cards with illustrations of children as small adults, with all the coyness and guile of their elders. Kate Greenaway's illustrations of children graced many Victorian Christmas cards. Other designs included landscapes (in all four seasons), seascapes, floral, animals, or fairies dancing on a pond. During this era we see many different portrayals of Father Christmas. St. Nicholas first appeared in the 1850's and was still popular in the late 19th century.
In the 1860's and 70's, a favorite with the ladies were the cards with perfumed sachets. The firm of E. Rimmel (a perfumery business) is the most associated with the production of these cards, although this was not the firm's main business. The sachets were very elegant, often made of satin, silk, or gold paper lace. They were padded with tissue paper or cotton that was scented with a few drops of perfume. In 1876 Marcus Ward produced a card with a simple design and a sachet of powder.
In the 1880's Christmas cards reflected the taste of the Victorians. With the coming of the Gilded Age, Christmas cards became more and more elaborate. Some of the most popular cards were quite bizarre novelty cards with silk or feather fringe, glitter adornments, lace, tinsel, and velvet pieces. A favorite card was the mechanical card, it had moving parts. A person could pull a tab or a string to make figures move and reveal a hidden message. Pop-Ups and Fold-Outs added a faux three-dimisional effect. On pop-ups, figures making a scene "poped up" as the card was opened. A fold-out card might have two or three panels giving the viewer a 3-D effect.
Despite the fact that Christmas is centered around a religious event most of the popular cards did not have a religious theme. Religious cards began to appear in the 1890s. Some Christmas cards showed angels in the snow (also known as "snow angels"), cherubs, or a manger scene. Christmas trees also began appearing on Christmas cards in the late 1890's.
Many famous artists contributed to the design of Christmas cards. Ellen Clapsaddle was a very popular artist who's signed cards are highly collectible. Kate Greenaway, a children's book illustrator, also designed many Christmas cards. Her works are considered masterpieces of greeting card art. Learn more about Ellen Clapsaddle by visiting the Emotions Greetings Cards website. You can also view a few examples of Ellen Clapsaddle designs in the Livaudais Collection BY CLICKING HERE.

As was previously mentioned, 1890 is about the time that the age of the beautiful Victorian Christmas cards in America and England began to give way to the cheap and tawdry foreign cards being massed produced. The public became disinterested and sales were in a slump for many years. Christmas postcards began to appear at the turn of the century and their cheaper postal rate made them popular more with the cost minded then with the quality demanding public.

You can read an article about Victorian Christmas cards from Harper's Bazaar dated December 31, 1881 by visiting A Victorian Christmas website.

View our Victorian Christmas cards Gallery 1 POPULAR THEMES

View our Victorian Christmas cards Gallery 2 FANCY AND NOVEL

View our Victorian Christmas cards Gallery 3 BY CLICKING HERE

View some of our cards listed in the Laura Seddon Collection BY CLICKING HERE

Page 6