Page Seven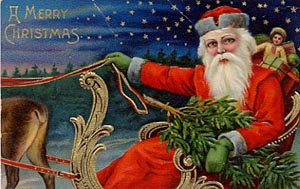 "A Merry Christmas" is the greeting on this postcard with a beautiful image of Santa Clause. The card has a postmark of 1910.
The postcard boom is credited for much of the demise of the elaborate cards of the early Victorian era. By 1907 the American public was wrapped in the idea of the 'penny postcard', which peaked just before World War I. With more and more Americans moving west, mailing a postcard was an inexpensive way to send Christmas or other communications to the relatives and friends back in the East. Many early American, German, and British Christmas postcards had beautiful illustrations of Christmas scenes. They carried many of the same themes as found on the elaborate greeting cards. Mistletoe and holly still trimmed many cards. Poinsettias were virtually unknown until the early 1900's. Plum pudding was a featured item as well as Christmas trees. Some postcards were issued as part of a series. It is a collector's goal to acquire all cards from a desired series.
A novelty card called a 'hold to light' card first appeared around 1899. This type of card was made of several layers of cardboard, with the top layer containing the picture cut out at certain points that correspond to a Santa. Backing these cuts was translucent paper that permitted light to illuminate the scene on the top layer. A transparency postcard was similar to the hold-to-light cards. They contained a blank space in a scene on the front of the card. The card could be held up to a light source to see an image of Santa appearing where he wasn't before. Some of the nicer postcards included children, peaceful villages, angles, the nativity, St. Nicholas, and Santa Claus.
It has always been interesting to me to see the many different variations of Santa Claus depicted on early postcards. In the earliest ones, Santa looks like a woodsman, dressed in brown fur. Later he wears a purple overcoat, or a green, or white, or a blue one. But the most common color of Santa's outfit is red. European cards usually had him in a full length, hooded robe, while American illustrators showed him in either a full-length robe or in pants, and with a fur-lined cap on his head. Publishers such as Tuck, PFB, Wiener Werkstatte, and Winsch, and other German firms, produced Santa postcards in all his varying apparel. The artwork of Mela Kirchner and Raphael Kirchner are found on these old cards. Other famous artist contributing to postcard art were Ellen Clapsaddle and Frances Brundage, both popular for their children's illustrations. New York City based McLoughlin Brothers printed postcards with Santa for only a few years prior to 1907. The company used previously released designs from the 1890's.
The 'real photo postcard' was a delightful form of holiday greeting enjoyed by all. Often the subject was the child, or children, of the sender's family in a pose with Santa Claus. The child might be on a donkey (as in a postcard from 1860), or in a sleigh drawn by wooded cut out reindeer. The children usually wore heavy winter coats, which appear to be hand-me-downs since they are often a little too large for the child. Sailor suits were popular attire for little boys. Girls wore ribbons and bows, or bonnets.

While there are many beautiful postcards in my collection, the following postcard galleries were designed to illustrate the changes in postcard designs and quality.

View Gallery 1 examplesBY CLICKING HERE

View Gallery 2 examplesBY CLICKING HERE

Page 7