Page Fourteen
Left: Holly Hobbie on an American Greetings card in 1979 sends the wish "Hope every Christmas dream comes true...And brings you joy the whole year through! Merry Christmas, Happy New Year".
In the 1970's, more cards began to be produced with a glossy finish instead of a flat, or matt, finish as in previous decades. The "Forget met not" and "Americard" series by American Greetings used glossy photo prints on the cover of their cards. Hallmark was also producing cards with glossy photo prints that could be sent in embossed envelopes.
"Modern art" replaced the intricate illustrations and designs of earlier cards. American Greetings had a cartoon character, designed by Tom Wilson, named "Ziggy' who became an American infatuation. He appeared on nearly every type of greeting card, including Christmas cards. Charlie Brown was also featured on many Christmas cards. Both "Ziggy' and "Charlie Brown" usually brought some sort of a humorous message to the recipient of the card. Victorian scenes of a family decorating a Christmas tree, or a sleigh ride on a snow bound country road, gave a nostalgic look back at Christmases past. American Greetings also used the artwork of the distinguished Swiss artist Anne Marie Trechslin, well known for her realistic floral portraits, in their "Floral Portraits" series. By 1977, "Hollie Hobbie" became the most sought after female-oriented licensed character in the world. "Gretchen", another American Greetings licensed character, is found on a 1978 card.
Cards also used soft tones, pastels or water colors. Many were trimmed or highlighted in gold leaf. An embossed message in gold leaf was a popular design. Glitter was still used, but to a much lesser degree than previous years. The highest quality color printing has always been the most important requirement in the greeting card business. Many more cards started to be printed without any verse on the cover. The greeting was only reveled once the recipient open the card. UPC barcodes begun appearing on the backs of cards in the late 70's. A barcode appears on an American Greetings "Laurel" series card and on a 1978 American Greetings Forget Me Not.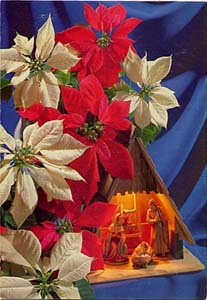 Charities had Christmas cards printed to generate revenue to support their ministries. Politically correct cards also made an appearance. Some cards included Braille embossed under the printed message. Recycled Paper Products, Inc. of Canada produced cards that were "100% recycled paper. Made entirely from reclaimed waste paper. No trees were destroyed to make this card." They were cardstock with simple, two color designs and sold for $1.00. In 1971, a design by Alan Chiara was "printed on Genuine Parchment" for an American Greetings Christmas card. In 1975 Rust Craft UK established its own Creative Department with a design studio and a creative staff team, and Statistical Planning and Market Research departments soon followed.
In 1979 Rust Craft UK bought Denison Bros. (Yeadon) LTD, a principal supplier of print. Many of their greeting cards were printed on the Denizens five-color "Sovereign" press, capable of printing some 1.5 million cards a day.
Popular Christmas card producers were American Greetings, Hallmark Cards, Buzza (Anaheim, CA), Rust Craft ("Brownie" series), Quality Crest, Grand Award (Boston, "Christmas Originals" series), Drawing Board Greeting Card, Inc (Dallas, TX), and Gibson.

On the right is a photo card with the Christmas Classic Originals marking on the back. The inside says "May the Joy and Peace of Christmas be with you today and all through the New Year".

View 1970's Gallery 1 BY CLICKING HERE

Page 14