Page Sixteen
Hallmark, American Greetings and Gibson still remain the three largest producers of greeting cards as the end of the century approaches. The cards of the 1990's do not show much change from previous decades. Victorian themes become more popular, especially old world Santas. Cards with Christmas trees, bells, holly, ivy, and other Christmas decorations still populate the card racks of retailers. Illustrations of country scenes and landscapes, as well as real photos, appear on many Christmas cards. Religious themes still hold strong in an era that seems to have forgotten what Christmas is all about. Carlton's (Canada) first use of recycled paper to make cards came in 1991. Leanin' Tree cards became more and more popular, especially with the growth of interest in 'Country-Western' music and lifestyle. American Greeting's Alternative cards are sharp-witted, silly, cards, printed on recycled paper, that have much in common with the Hi Brow line of the 50's.
The use of humor is more common than before. On a Shoebox Greetings card by Hallmark is one of my favorites. The cover reads "Christmas is just plain weird" and the inside continues "What other time of year do you sit in front of a dead tree in the living room and eat candy out of your socks?" Shoebox Greetings also used Santa Claus as a theme for humor. A very popular cartoon in the 90's was Gary Larson's Far Side, which made its way to Christmas cards too. These single framed cartoons took an obscure look at life and situations that made millions laugh and shake their heads. In 1995 Carlton was granted a license to market Nickelodeon. The Simpsons and the Rugrats became leading sellers in the following years. In the late 90's Dilbert took pokes at the white collar worker and his relationship with management. Hallmark had Dilbert sending his dry witted greetings.
In 1990 Carlton's retail division, Summit Canada, acquired 23 new stores, adding to their already 202 stores across Canada, thus expanding their distribution network. The stores operate under the names Carlton Cards, Scribbles & Giggles, Best Wishes and In Touch. In 1994, American Greetings and Carlton introduced the Forget-Me-Not brand into the Canadian market. It soon became the fastest growing brand in Canada. Then, in 1995, Summit Canada becomes Carlton Cards Retail. Carlton UK implemented a duel-brand strategy in 1993 with the re-launch of the key traditional card brands Carlton and Forget Me Not.
In 1996 Carlton UK invests over 2 million pounds in the latest printing technology with the purchase of a new Komori printing press that was installed at the Guiseley plant. The press could print five colors and reverse with two coating units and UV drier. It could produce 12,000 sheets per hour with sheet changeover reduced to just 25% of previous changeover times.
The 1990's was the decade where high-tech met old world traditions. In 1992 American Greetings placed their CreataCard computer kiosks on retail floors in Canada and the US. Now people could write and design their own personalized greeting card in the retail store. The CreataCard kiosks were introduced to the UK the following year at the International Spring Fair at the NEC Birmingham. By 1998 CreataCard kiosks in the UK exceeded 500 placements. These are located in Clinton Cards, WH Smith, Tesco, Woolworth, Post Shop, and large independent retailers.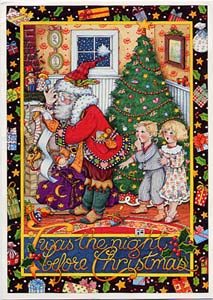 The Personal Computers industry was booming, and PC's were being bought for home use. Color printers became affordable and people added one to their home computer system. Software vendors produced programs that made it easy for people to create their own personal greeting card at home on their PC and print it on their printer. One such product was CreataCard Plus, released by American Greetings in 1996.

Then there is the Internet, the information super highway. By 1994, 11 million Americans were "on line", and companies like American Greetings and Hallmark were setting up websites to attract the web surfer to view their products. People could order paper cards and have them delivered to their home. But a new wave of greeting cards arose with the growth of the internet, the virtual greeting card. People could send an illustrated graphic, selected from a menu of illustrations, and e-mail them to others.

Card on right is a design by Mary Engelbreit (c) 1993, sent in 1997. The cover reads "Twas the night before Christmas" and inside "Treasure the magical moments of Christmas". ME Inc, Sunrise Publications, Inc. Size: 5.5" x 7.75"

View Gallery 1 examples BY CLICKING HERE

View Gallery 2 examples BY CLICKING HERE

Page 16