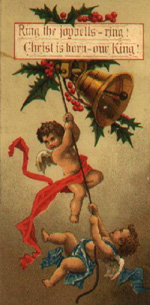 Christmas cards have been a part of our Christmas traditions for well over a century. They bring wishes of joy and health to those we know and love. Christmas cards give us the opportunity to honor our intentions to "keep in touch" with an old friend or relative. They bring joy to those who receive them, not just because of a beautiful illustration or inscription, but because they all say, in intent, "you are being thought of".
My study on Christmas cards comes from research material available and over 9,100 Christmas cards in my collection. So let's take a look back at how this wonderful holiday tradition began and evolved into what it is today. All the cards shown in this study are from my collection.
Greg Livaudais
Shortly before Christmas of 1223, Francis of Assisi arranged with a landowner in the Italian village of Greccio to prepare a place for a special cermony. He set up in a cave a manger filled with hay. An ox and donkey were stabled and invitations were sent to all in the area. Francis, with the help of others, celebrated Christmas mass with the manger as the alter. There were no shepherds, kings or angels being portrayed. It was quite simple, but made an everlasting impression on how we were to venerate the birth of Christ.
This study is on the many different variations of figures in my 5" paper mache composition collection. This site features figures from Italy, Germany, and Japan. The figures date from the 1920s through the 1960s.